NOBRAND Group, curated this dinner with 6 chefs who apprenticed at El Bulli, a tribute to El Bulli great wonders just few weeks after El Bulli Closes its doors to the public.
El Bulli Event Places Lebanon on the Map of Culinary Excellence
Oct 4th Beirut, Lebanon – Nobrand Holdings and Beirut Restaurants declare the first annual El Bulli Gastronomic Week a resounding success.
The groundbreaking event which took place from Sept 29th – October 1st featured three of the Middle East's rising culinary stars in an event masterminded by Nobrand Agency Creative Director Badeeh Abla. Beirutrestaurant.com's El Bulli Gastronomic Week delved into the culinary genius of Ferran Adria – whose Barcelona based restaurant topped the list of the world's best for over a decade. The menu, presented at Nobrand Holding's historic Blue House over four days, consisted of a chef's tasting, prepared by the El Bulli resident chefs, with wine pairing for each course.
Guests included former Miss Universe Georgina Rizk, Senator Doghmoch, the Spanish ambassador, Nayla and Nicolas Audi, Carine des Plates, Karim Karagulla, Mark Timbrell, the Netherlands' counselor and many other esteemed guests.
The exclusive menu, created specifically for the event, featured a number of exclusive culinary molecular cuisine premieres including:
The world famous El Bulli Nitrogen frozen Mojito, the world debut of "Lebanese Tempura Fig Birds" served with a mouth-watering consommé, the CNN featured Morels with Egg Yolk, Gin Fizz, Olive Spheres, Oysters, Cherry Gazpacho with Shrimp & Chlorophyll, Thai Lamb Sous Vide, and Soft Gelled Coffee with White Chocolate & Caramel.
"This is the first in a series of events created with the intention of elevating Beirut's status as the culinary hub of the region. We've reached out to some of the world's greatest chefs and been gratified to hear they're excited to showcase their talents in Lebanon," says Nobrand Creative Director Badeeh Abla.
About Nobrand Holding's Blue House
Lady Cochrane's historic Gemmayze "Blue House" is a testament to the indisputable allure of one of the Middle East's most enchanting destinations. As re-imagined by Nobrand Holding Creative Director Badeeh Abla, this hidden old world gem blossoms into a bohemian hideaway with clear aristocratic charms. The journey begins on unassuming paved road in the heart of Rue Gouraud, leading you through a secret garden adorned with a lush Frieda Khalo-esque palette. The Lebanese brick exterior gives way to a Grecian inspired interior with embroidered wood accents as you make your way up the Basil stairs to the Jasmin Room. The Blue House hosts a design studio and features a private kitchen equipped by IPEC kitchen Lebanon tailored to the needs of internationally renowned top chefs.
The Kitchen includes a PIRON convection Oven, SOUTHBEND four burners range, Pitco fryer, stainless steel tables, cupboards, shelves, refrigerators, sinks, cold room.
.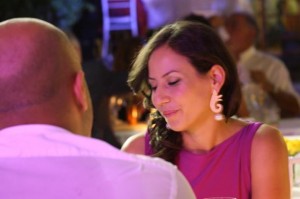 About Beirutrestaurants.com
The brainchild of online branding guru Badeeh Abla, Beirutrestaurants.com has become Lebanon's number 1 online portal for all food related enquiries and news. Boasting over 1600 restaurants, daily updates, and 2000 hits per day, Beirutrestaurants.com has firmly established itself as the country's go to resource for all F&B related news including: chef interviews, social calendars and restaurant reviews, providing diners, tourists, and restaurateurs with an online resource to compare notes and share insight.
A big thank you to our Friends & Sponsors (we couldn't have done it without you!)
Issa Abla,
Rabeeh Abla, Badeeh Abla 
Olivia Abla,
Amalia Abla,
Chahine Ghais
Charles Anthony Accivatti,
Najat Kaanache Amghiraf,
Nassim Assaf,
Nayla Audi,
Nicolas Audi,
Fadi Barakat,
Karima Barrage,
Rima Barrage,
Chef Joe Barza,
Luis Fernando Arrufat Calbet,
Michel Chkeiban,
Juan Francisco Valiente Cid,
Patrick Cochrane,
Anthony Nassif,
Joumana Dammous,
Carine Chebli Desplats,
Ambassador Juan Carlos Gafo,
Carol Haddad,
Mario Haddad,
Josette Hikiri,
Krikor Jabotian,
Tomas Reger,
John Kazan,
Enas Mtaweh,
Maher Mhanna,
Joe Nakhoul,
Assaad Nakhoul,
David Delgado Patricio,
Paola Rebeiz,
Lina Saeedi,
Joanne Sayad,
Aziz Sayegh,
Mikhael Shammas,
Chef Brody White